TEN REASONS WHY YOU SHOULD CONSIDER
CROUSE LAW OFFICES
1. We are Legally Experienced. We have handled virtually every type of aviation case: Airline, Military, Corporate, Airplane, Helicopter and Tilt-Rotor involving product liability, negligence, operational, enforcement, Warsaw Convention, government contractor defense, on-board fire, mid-air collision, spatial disorientation, and numerous others. Our actual experience as to type of accident is second to none.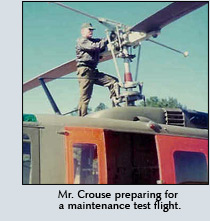 2. We are Technically Experienced. We know aviation: operations, maintenance, aircraft design, aircraft manufacturing, governmental regulation, and the associated scientific fields of physics, meteorology, metallurgy, lubrication, aerodynamics, hydrualics, combustion and electrical. We were pilots, test pilots, and maintenance officers before we became lawyers. Our education, training and our case experience have given us a working knowledge in all of the technical aspects of each type of aviation case.
3. We Care. We genuinely care about our clients. We have a strong desire to help people. We care about each family we represent, and many of our clients wind up becoming our friends. We never forget for whom we are working and why we do what we do—because through no fault of their own, someone has suffered a terrible tragedy, and needs help. This means we do our very best for you, personally and professionally.
4. We are "Hands On." We have experience with larger firms, where partners delegate much of the case--investigation, discovery, research and writing-- to junior lawyers, paralegals and staff, or sometimes even to outside experts. We choose to remain at the center of all that goes on in a case and to actually do the work ourselves. This way we are better able to monitor all details of the case.
5. We Form the Right Team. On each aspect of every case, we find the right specialists and experts to bring in to assist us. Whether it be a highly technical matter in the law or in the aircraft, we make sure the right people are used to bring about successful results. We assemble the right legal and technical experts to make sure we thoroughly analyze and correctly handle each issue in the case.
6. We Are Military. We are proud of our military experience—over twenty-six years in the United States Army, National Guard, and Army Reserves as an Infantry Officer, Transportation Corps Officer and Aviator. We have been on the ground with infantry troops, in hangars with maintenance crews, in the air on test flights with technical specialists, on medevac missions with medical personnel, and on the ground and in the air with night vision systems specialists. We have a deep respect for those men and women who serve our country.
7. We are Fiscally Responsible. We only spend the money that has to be spent to get the job done. We do not hire technical experts to tell us what the case is about--we only hire technical experts once we determine which experts are needed. We carefully monitor and control all case expenses. We do not travel lavishly nor spend money needlessly. We are good managers of the fiscal side of each case. We do this simply because it is the right thing to do.
8. We are Creative. We are not restricted by how we have always done it before, or even how we did it last time. We look for new and better ways to handle each case and each issue in a case. We think outside the box. We develop whatever means are necessary to ensure success for our clients - whether or not it has been tried before.
9. We Communicate. We are here because of our clients and for our clients. We do not treat our clients as a number on a case list. In keeping with our firm's philosophy, we make ourselves available to our clients at any time day or night. We give our clients our email addresses and home and cell telephone numbers. They can talk to us, the very lawyers actually handling their case, at anytime.
10. We Can Go Anywhere Against Anybody Anytime. Our experience has led us all over the world. We are global travelers who have litigated cases throughout the United States and abroad. We are as well respected by the defense lawyers and insurance companies as any other plaintiff's lawyers in the country. We can go anywhere and do anything any other firm can do. But we operate in a way that makes us more personal, more accessible, and more directly responsible to you, our clients.